About Bungee Jumping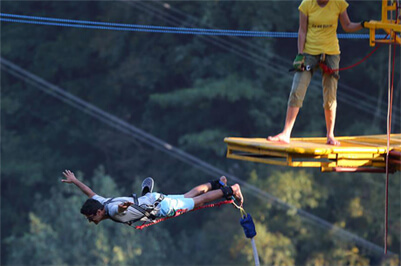 Rishikesh city is set in the gorgeous state of Uttarakhand, in India. Rishikesh is considered to be famous for its wonderful rapids on Ganga and camping places. Unique Sports in Rishikesh have been an attraction for innumerable travelers from all part of the world.
Bungee jumping is another wonderful activity for adventure seekers. It is the most thrilling activity to do, where your heart and mind literally fight for doing it or not. Bungee jumping is not for the faint-hearted persons.
Rishikesh city OFFERS the first fixed and heights point of bungee jumping in north India. You're tied to ankles with a long elastic rope and ready for making the memorable experience of bungee jumping from 83 meters. There is guide to teach you about jumping. After the jump, your guide will help you to lower down to a drop into the river which has only 2ft. You also get the "Dare to Jump Certificate".
Safety Tips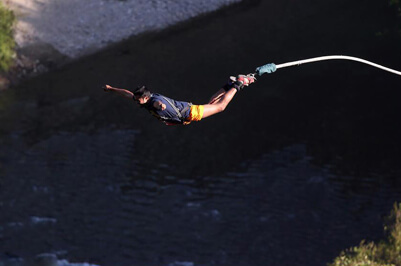 We always follow world class standards in our tour operations. We have well support staff (guide of jumping, rafting etc.). We have very thorough inspection schedules to ensure the high level of safety standards in each and every adventure sports.
Don't do any action before jumping /during the jumping, don't play with your life.

Be STRONG; don't forget you are jumping with a strong rope. We are with you.

Enjoy the jumping a make it memorable experience.

There are no risks of bungee jumping.
Best Time For Bungee Jumping
Bungee jumping point only 26kms from Rishikesh in Neelkanth Mahadev Road. Jumping time are 9:30 AM, 11 AM, 1 PM and 2:30 PM.
Bungee Jumping Package
Only Bungee Jumping Package – Bungee Jumping (3500/- per person).
1 Night Camping, River Rafting with bungee jumping packages – Rafting, Camping and Bungee Jumping (5200/- per person).
Combo packages – Bungee Jumping, Flying Fox, Giant Swing Costs (8000/- per person).
Bungee With Other Adventure Sports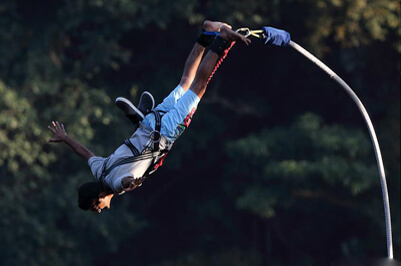 Rishikesh city OFFERS various adventure sports that serve as a highlight in Rishikesh are bungee jumping, rafting, water sports, body surfing, kayaking, rock climbing, rappelling, nature Trekking, Cliff jumping, flying fox activities, giant swing activities etc.
How To Reach Bungee Point
Rishikesh city is well connected by the road and train. Jolley Grant Airport – Dehradun is just 20 km far from Rishikesh. To arrive the jumping point we have two routes.
Route1
Delhi, Haridwar, Bairaj (Move Towards Neelkanth Temple Road), (32kms drive) Jumping Point
Route2
Rishikesh, Laxman Jhoola (Cross Laxman Jhoola by walk or Bike), Get Bus or Taxi to Jumping Point (26 kms drive)