Valley of Flowers Trekking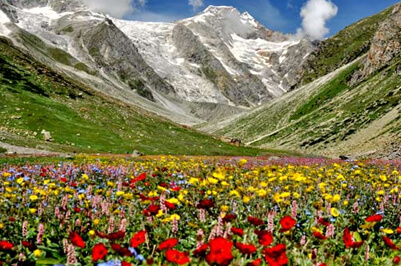 The Valley of Flowers is one of the magical wonderlands on this earth situated high in the Himalayas of the Uttaranchal, in India. It protected by snowy mountains, at an altitude of 3,600 meters above sea-level. This valley discovered by "Frank S. Smyth" in 1931, snow-covered for much of the year and hence remains inaccessible.
The Valley of Flowers trek has a lot of stories around it. These stories are usually about travelers falling unconscious from the heavy scent of flowers on this valley. It is a much sought after haunt for botanists, flower-lovers and of course trekkers, for whom a sufficient excuse to start on a mission to reach a place, is that it exists. Valley of flowers OFFERS about 650 types of different plant species here. Some of the very rare plants like Blue Poppy, Ladies Sleeper Orchid, and Braham Kamal etc. one can find a dense forest of Bhoj Patra and on the other side of Pushpawati River also.

Trekking Route of Valley of flowers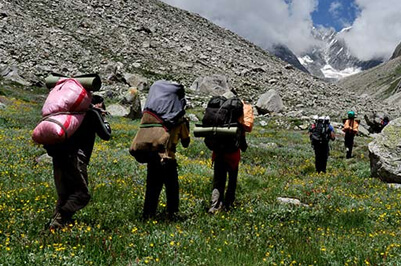 First Day Teak – Starts from Govind Ghat (1900mtr) to Ghangria (3000mtr), 7 hours, 13kms gradual ascent.
Second Day Trek – Ghangria to Valley of flowers (3500 m), back to Ghangria 10 km easy ascent followed by the flat walk through the valley and return.
Third Day Trek – Ghangria to Hemkund (4300m) Sahib and back to Ghangria 6 km 7 hours hard climb 5 hours descent.
Fourth Day Trek – Fourth-day teak will start from Ghangria to Govind Ghat 13kms easy descent 5 hours.
Best Time to Visit
Yet, you want to see the valley of flower you need to time the trek right now. In the month July and August when the monsoon is active is the best time to trek here.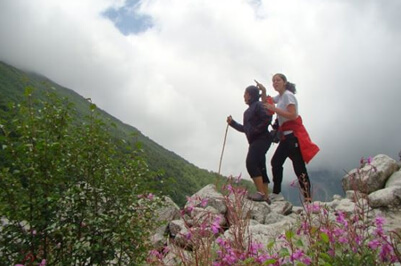 In May The Valley of flowers becomes accessible in the month of May when the snow starts melting. In the month of May, one can see a lot of snow but very less number of flowers. There is a big advantage of visiting May is that there will be no to less rain as the rainy season starts in the last week of June.
In June and July, These month's one can enjoy watching waterfalls and beautiful glaciers in the valley of flowers. The big benefit of visiting in this month is that there will be very less to no rain.
In August and September As the snow starts melting in May and new plants start germinating and grow up till August. One can see a lot of flowers blooming till mid-August. The Best time to see a maximum number of flowers is August and September one can say this is the last month for visiting Valley of Flowers. The plants and flowers are starts drying up and put their seeds on the earth for the next season.
Note Tourists has no authority to stay in the Valley of Flowers. There is no ACCOMMODATION IN the park. If you want travel this amazing valley you have to stay private at lodge and hotels.
How to Reach
By Road Chopta is well connected with car/buses road. Chopta comes in way of Ukhimath road. One can easily book Buses and Taxis from all major towns of Uttarakhand.Valley of Flowers is well connected upto Govind Ghat from here you have to 16 kms commence trek to reach Valley of Flowers. Govind Ghat well connected by road with major destinations of Uttarakhand state transport. Car, Buses and Taxis are easily available from Rishikesh city or Haridawar.
By Train The nearest train/railway station is Rishikesh to reach Valley of flowers. From here you have to manage car or bus to till Govind Ghat. Valley of flowers is a far from Govind Ghat only 16 kms. Rishikesh city is well connected by railway or road networks with major destinations of India.
By Air Jolly Grant Airport is the nearest Airport to here, but the road is only connected upto the Govind Ghat. Now you have to trek of 16kms to reach Valley of Flowers. Govindghat is located at a distance of only 292kms from Jolly Grant Airport and well connected by motor able roads. Jolly Grant Airport is well connected to Delhi transport also.