Adventure Activities Rishikesh
It's true that adventure never comes from outside, it's born with a man. if you really want to explore adventure at its deepest, there are rich opportunities in Rishikesh. Spellbound with majestic peaks and mountains, captivating rivers, challenging terrains and other natural wonders, Rishikesh is an array of adventure thrill in the world. Surrounded by high mountain ranges, mighty rivers and dense forests, Rishikesh is the perfect geographical location for all types of adventure activities. Here is a list of adventure sports that would help you to select the one which is best for you.
1. Camping
Camping is a recreational activity and a part of Rishikesh's adventurous sports. Camping offers you night stay facility amidst the natural beauty and foothills of the Himalayas, which gives you an amazing feeling. Camping also gives you the enjoyment of so many fun-filled outdoor games like volleyball, football, badminton and bonfire which are enough to enhance your camping trip at Rishikesh. Tents are well decorated with basic facilities to provide you a homely stay and each tent can have two beds. The camps also serve you hot delicious food, that is cooked in their own kitchen. For all those people who heartily love thrill and adventure, it is an opportunity they would not like to miss.
2. River Rafting
If you are getting bored with your slug life, then you must do something sparkly, which kicks your life and makes you more burly. River rafting in Rishikesh is one of the perfect adventure thrills for both experienced ones and amateurs. Here, you will face all kinds of challenges in front of the rugged river, from mild bumps to extreme turbulence, from short to scrap falls, rocky mountains and shining blue water with the feeling of freshness in the midst of natural environment. There are five levels of grades lying between 1 to 5. You can select the grade according to your challenging strength. The stretch between Kaudiyala to Shivpuri is the most adventurous and popular.

The requirement for Rafting:
Best Season: March – April – May and late September – October to Mid November.
Age Limit: Minimum 12 years and Maximum 65
Weight Limit: Minimum 40 kg.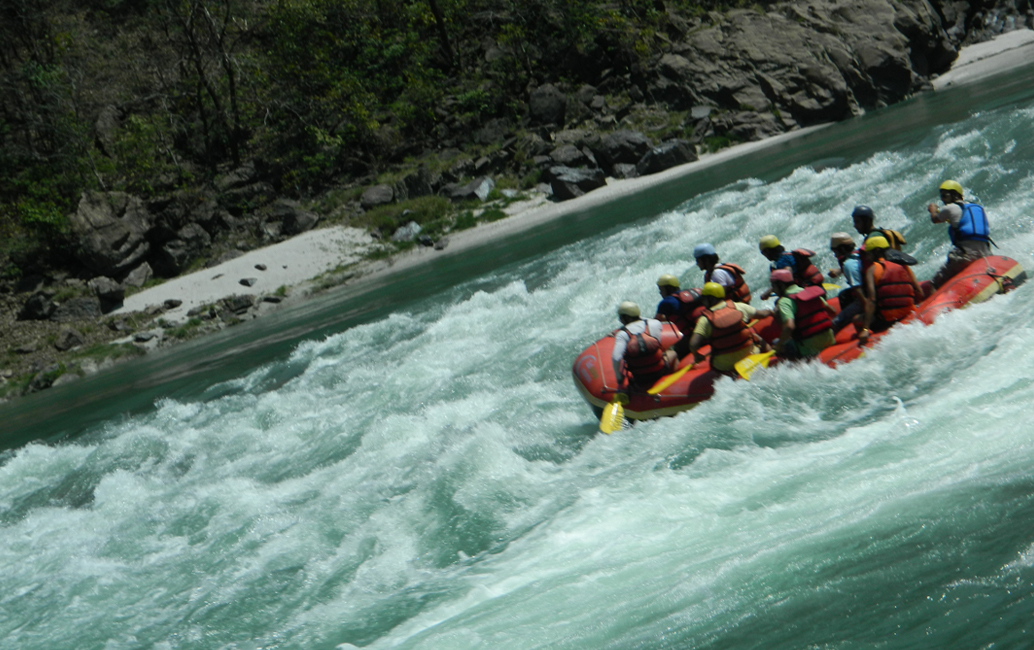 3. Kayaking
If you are visiting Rishikesh for white water rafting, that's great but, don't miss the chance to enjoy the kayaking activity. It is a very adventurous water sport activity done in Rishikesh. If you want to enjoy the river and its scenic beauty, then a guided kayaking tour is one of the best options. The River Ganges offers you a number of great rapids to commence on a Kayaking expedition. You can select a rapid according to your physical strength.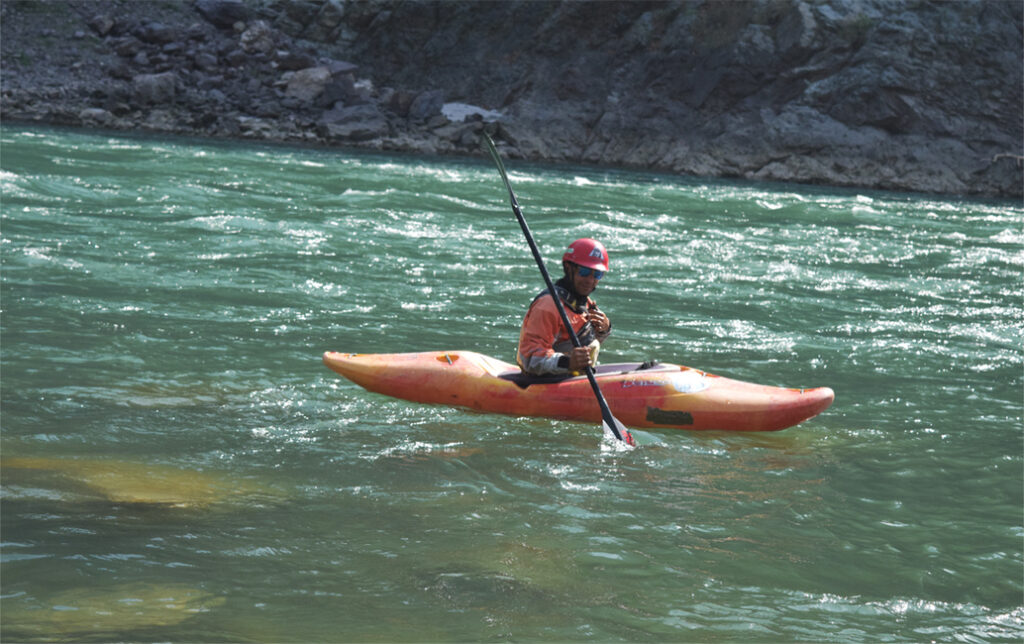 4. Cliff Jumping
Cliff jumping is also as amazing as the other adventure activities. Jumping into the river from a height of 35 ft is just an awesome thrill for those who are real adventure enthusiasts. Get ready for some adrenaline pumping action as you climb up to a cliff and get yourself prepared to jump off. It is very safe and the best thing is that it is also safer for non-swimmers. You will be wearing a life jacket to keep yourself afloat on the water. So, be ready to make your trip memorable for many, many years to come.

Some Detail for Bungee Jumping
Cliff Height: 35 ft.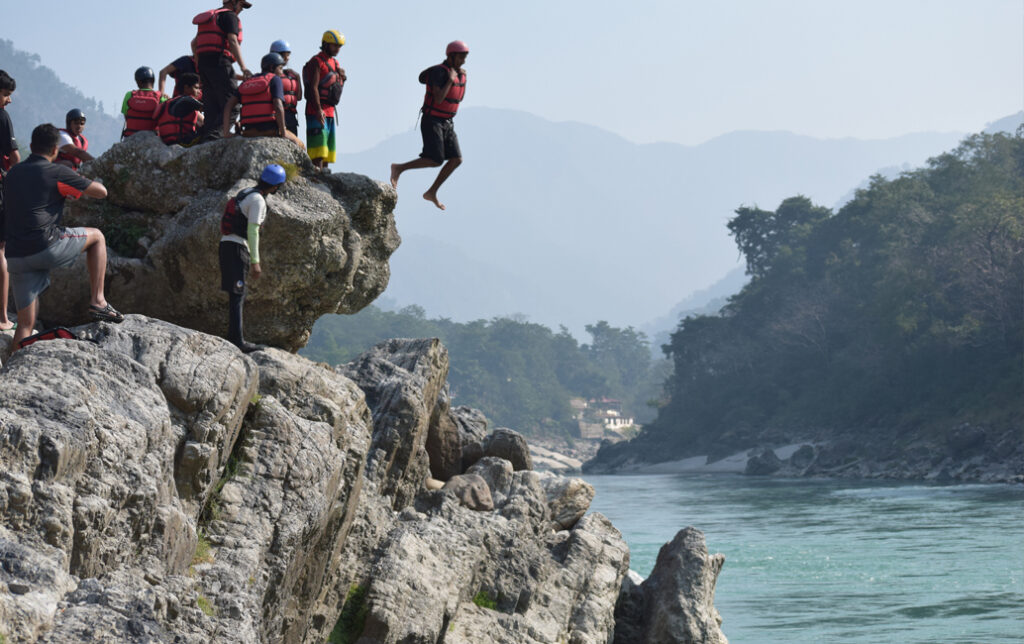 5. Bungee Jumping
Can you listen to your heart beats, while having a jump from a height of 83 meters above the sea level? Yes, it is true that there is an another heart beating adventure thrill called Bungee Jumping, operated by Jumping Heights in Rishikesh with the team of New Zealand. The activity is done with all kinds of safety gears including chest harness, tested ropes and all the activities are performed under the supervision of experts. If you are one of those who live their life without fear, you must do this adventure thrill.
After doing this heart beating thrill, the jumpers will have to drop into the river (drop zone) which is only 2 feet in water level. But don't forget to collect your dare to jump Certificate, photographs & video, which is as important as this memorable moment.
Some Detail for Bungee Jumping
Weight: Minimum 40kg and Maximum 110kg.
Age Limit: Minimum 12 years
Timing: 8:20 Am. – 6:30 Pm.
Weekly Off: Tuesday
Location: Mohanchatti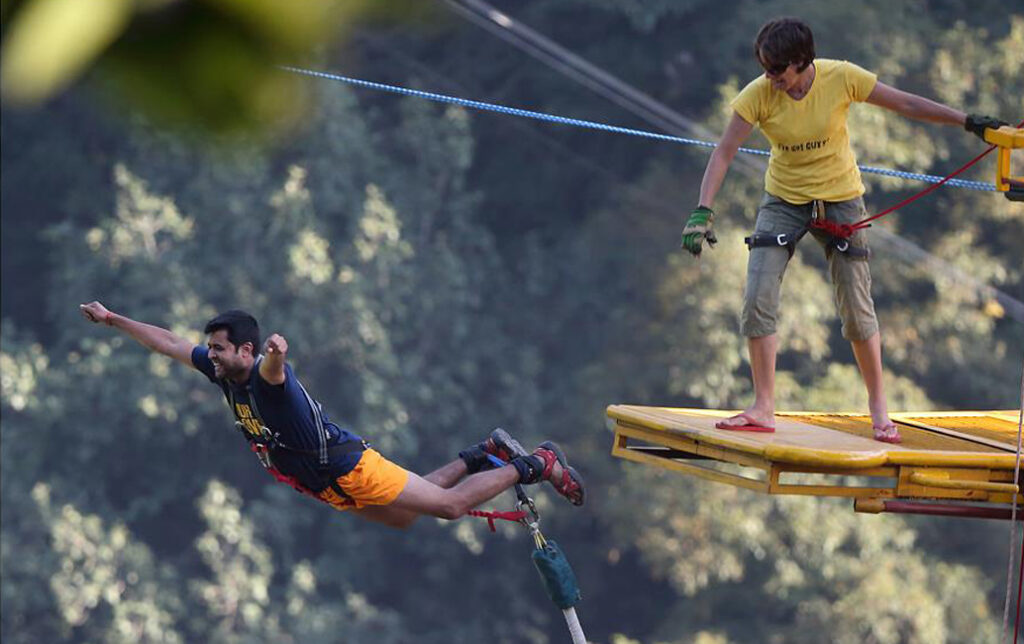 6. Cycling
Traveling in Uttarakhand on a cycle through the landscapes is the ultimate option of exploring the beauty of Uttarakhand. The rugged mountains and sharp slopes, though risky at times, offer a great cycling experience in Uttarakhand. Use the slow mode of traveling and feel the refreshing wind blowing through your ears and enjoy the freedom to discover and experience Uttarakhand in an incredible and a different way.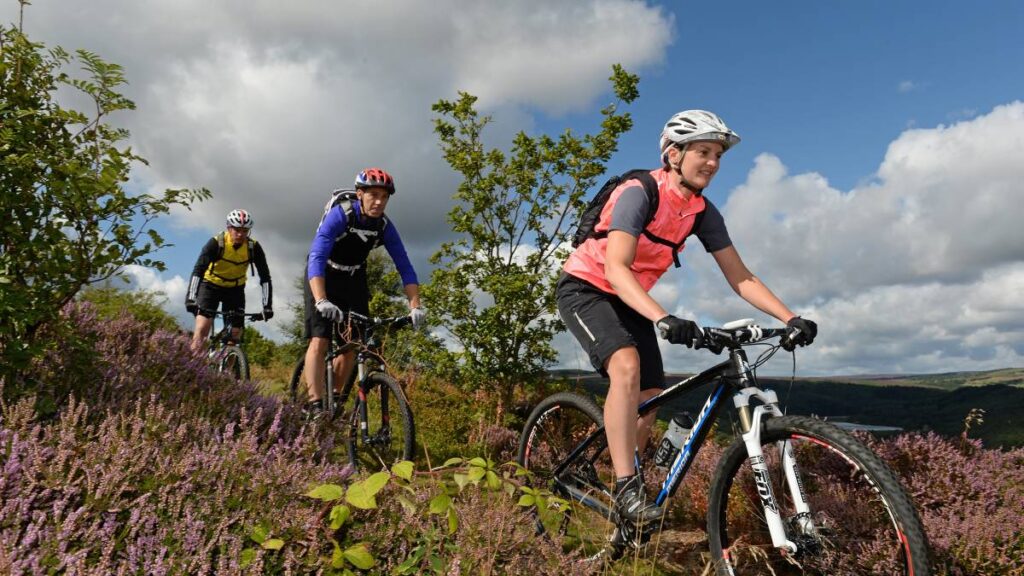 7. Rappelling
Don't forget to experience this interesting activity and string sport called rappelling. Climbing down a cliff in the foothills of the Himalayas in Rishikesh is a lot of fun. This activity is done under the guidance of experts, who will provide you rappelling equipments like gloves, harness, slings, ropes, and helmet. Before starting of activity, you can have an introductory session with the expert climbers and instructors. The adventure activity can be enjoyed by all (men, women, and kids), who are physically fit and have the stamina to challenge the cliffs.

8. Mountain Biking
Mountain biking is also a popular adventure activity in Rishikesh. Across many districts of Uttarakhand, about 8 miles from the beautiful city of Rishikesh, this is perfect for those who want to ride over the rough terrain and test their skills. In this adventure, you will ride bicycles passing through lush green forest valleys, Hindu Colony, temples and mountain villages. It is an outstanding experience, which you will cherish for a lifetime. Paddling through the hills with a heart-warming sunset view and snowy peaks of the Himalayas will be a great experience for you. But you have to have a good stamina for this adventure activity.

9. Waterfall Trekking
It is really very exciting, trekking around nature and away from the hustle and bustle of the city. The Rishikesh city is situated in a region surrounded by a very famous forest reserve : The Rajaji National Park. There are many hidden waterfall trekking areas in this National Park. This activity can be done by all age groups. If you want to add some spice to your adventure tour, then you must do this trekking activity.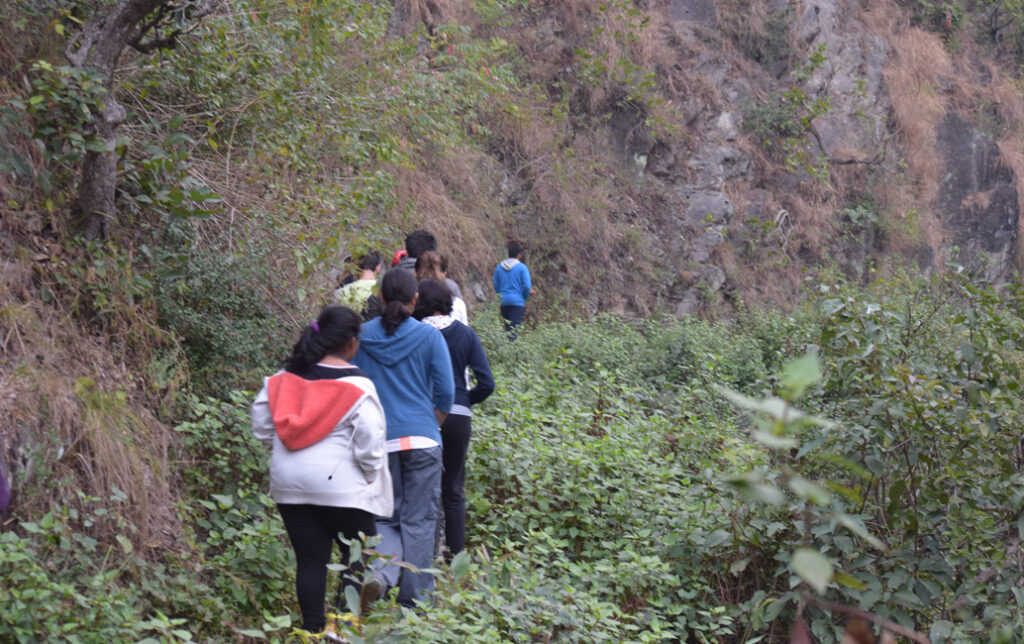 10. Yoga
Rishikesh is a world famous destination for "Yoga and Meditation" in the foothills of Himalayas. There are many yoga centers and ashrams to do yoga and meditation in Rishikesh. Experience yoga around the riverside beaches and regenerate your mind, body and soul with a new aura. The yoga sessions help you with many things like motivation, mental peace, stress and health problems. Numerous people visit here from across the world for their conscience development and they leave this place after a long time. There are some popular yoga places like Parmarth Niketan, Swami Dayananda Ashram, Omkarananda Ganga Sadan and Anand Prakash Ashram.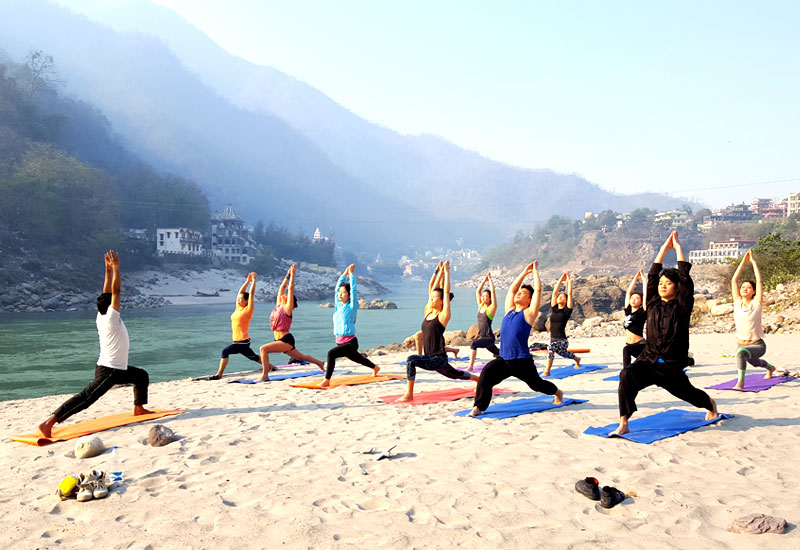 11. Beach Volleyball
If you want to spend some quality time with your friends or family and get together, then it is a good option to play Volleyball near the camp site. You will surely enjoy this activity on the soft sandy natural floor. It also works as an exercise to check your stamina level. This activity is for all those who want to play in the midst of peaceful environment. So, plan your trip to Rishikesh and you will definitely find it amazing and exciting.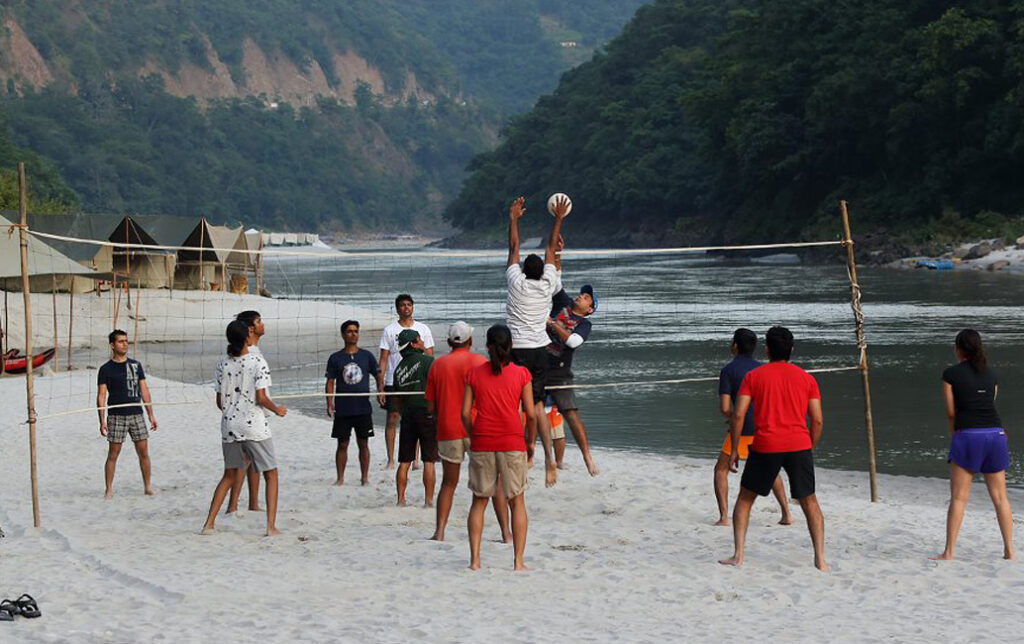 12. Flying Fox
If you have ever wished to fly in the sky, but you never got the chance to try it, so now you should be happy because Rishikesh, the "Land of Adventure", is offering you a chance to enjoy one of the most exciting activities – "Flying Fox". The adventure thrill can be done by three or one person at a time. You are harnessed to the wire and released by gravity, rolled down up to 7 meters above the sea level and accelerated with the speed of 160 kph. It is a really great thrilling experience, which can't be forgotten in a lifetime.

Some Details of Flying Fox
Flying Fox height: Approx 120 meters.
Length: 1km.
Speed: Up to 160 kph
13. Swing
It is an another thrilling experience for adventure lovers, which is called Swing. This exhilarating adventure, done by 2 people, is carried out from bungee jumping point with the height of 83 meters. If you want to check your body strength, then you must do this adventure. After doing this activity you can also take your photographs and DVD for your future memories.

Requirements for Swing
Age: Minimum – 12 yrs
Weight: Minimum – 30 kg, Maximum – 120 kg.