Rishikesh Tourism
Rishikesh, a famous Hindu pilgrimage center, is located at the foothills of the Himalayas, in the northern part of the Uttarakhand state at an elevation of 1220 ft. Rishikesh is attached to three districts – Tehri Garhwal, Pauri Garhwal and Haridwar. There are various myths about this city like, " In ancient times, Lord Rama penanced here for killing Ravana with his younger brother Lord Laxmana. Lord Luxman crossed the holy Ganga River at the point where today Laxman Jhula, a huge hanging bridge, is tied by only rope".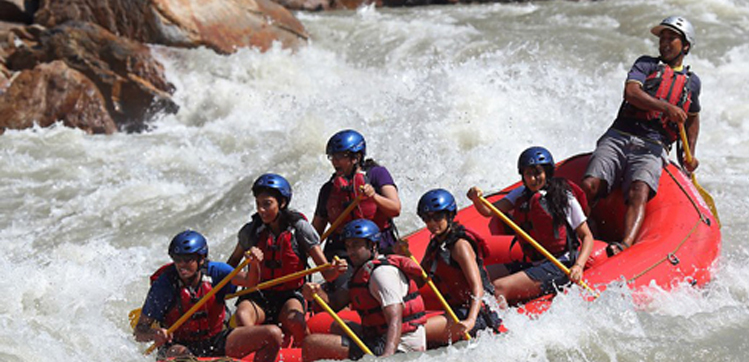 The fast flowing holy River Ganga flows through the main town. Forest surroundings and natural beaches make it a perfect Yoga and meditation center. Many Yoga centers and ashrams conduct daily Yoga classes, here. The Rishikesh city is world famous for Hindu temples, Yoga and meditation ashrams and adventure sports. It, daily, attracts thousands of devotees, yoga practitioners and adventure enthusiasts.
Rishikesh Travel Guide
Nowadays, Rishikesh accomplishes the peak point of adventure activities. Rishikesh offers – River Rafting, Camping (Beach camping, Luxury camping), Bungee Jumping, Flying Fox, Rock Climbing, Trekking, Rappelling and many other sports. Shivpuri, Brahmpuri, Marine Drive and Kaudiyala are the famous river rafting spots, here. Mohanchatti, 18 km far from Rishikesh, is a place for Bungee Jumping and Flying Fox.
Neelkanth Mahadev Temple (28 km far from Rishikesh), Triveni Ghat (famous for evening Ganga Aarti and the holy dip by devotees inside the Ganga river to remove all their sins), Trayambakeshwar Temple (13 storeyed wedding cake temple), Laxman Jhula (suspension bridge), Ram Jhula (suspension bridge), Bharat Mandir (built by Adiguru Shankaracharya around the 12th century, located in the heart of the old town on the banks of the Ganges), Vashista Cave (a peaceful cave, best for meditation).
Ashrams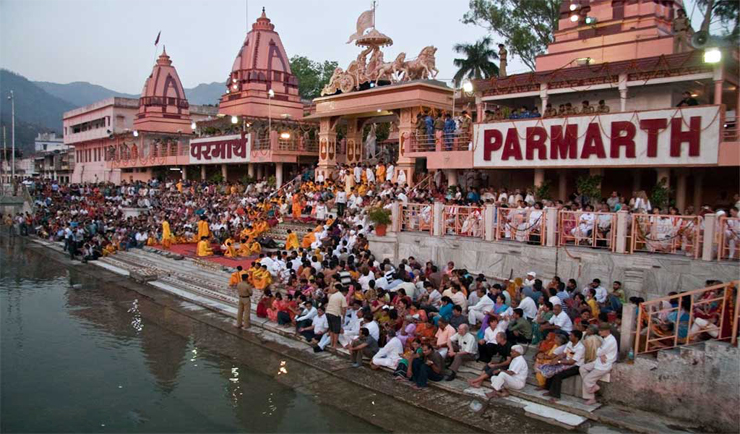 Rishikesh city has been a center for hermit sages, saints since time immemorial. They stay at the Ashrams for prayers and Yoga, for the peace of mind and soul. Some famous Ashrams at Rishikesh are Parmarth Niketan, Swarg Ashram, Gita Bhawan, Sivananda Ashram, Omkarananda Ganga Sadan, and Sri Sant Seva Ashram.

Yoga and Meditation Centers
Rishikesh styles itself as the "Yoga Capital" of the world. Famous yoga and meditation places at Rishikesh are Rishikesh Yog Peeth, Tattvaa Yoga Shala Rishikesh, Ved Niketan Ashram, Brahma Yoga Rishikesh, Himalayan Yoga Gurukul and Patanjali Yogpeeth at Bahadrabad, Haridwar.
Rishikesh Best Time to Travel
Pilgrims and Yoga travelers can visit Rishikesh all round the year. The month of May and June are not so pleasant because the temperature rises to maximum. Adventure travelers have to avoid the monsoon season because rafting remains closed during months of July to September.
How to reach Rishikesh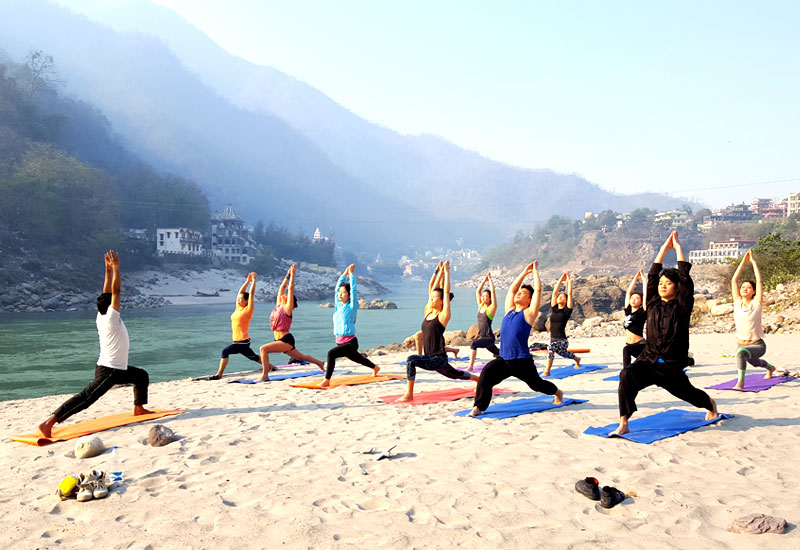 Road Delhi to Rishikesh is 280 km. One can reach Rishikesh easily within only 6 hours of drive from Delhi, depending on the traffic. Rishikesh is 24 km far from Haridwar and 43 km from Dehradun.
By Train It is a good option to reach Rishikesh by train. But during the returning time, you should try to take the train from Haridwar. A quiet branch line connects Rishikesh to Haridwar, but there are very slow trains in this route. So, it is better to take the train from Haridwar.
By Air The closest proximity is Dehradun's Jolly Grant Airport. This is 21 km far from Rishikesh. One can take taxi or bus from the airport to Rishikesh.